Coastal Missions Society
Advancing the Gospel on the Coast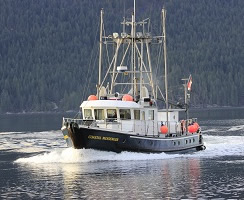 Coastal Missions is a Limited Corporate Society and a Registered Charity in Canada and United States since 1980
Coastal Missions is constituted exclusively for the advancement of the Gospel on the coast
Our 52-foot mission vessel Coastal Messenger operates year-round on the coasts of British Columbia, Washington, and Alaska
Our mission base and office are situated in Chemainus, BC
All our activity is charitable and non-commercial
Our funding comes from donations without appeal
2016 Voyages
April is the beginning of a "year" for Coastal Missions. Between April 2016 and February 2017, our alternating crews will visit people living on the west coast of Vancouver Island, SE Alaska, Haida Gwaii, mainland BC inlets, and the archapelago of islands between Vancouver Island and the mainland, and east Vancouver Island. The vessel will return only shortly to home port for the Christmas break.
Follow the Coastal Messenger schedule through the year either online with links to Google Maps or in print (PDF file).
The crew will add up-to-date location details to the calendar below when possible. Click on an entry to display more information.
North Coast and Haida Gwaii Voyage 2016
Brian Burkholder and crew (Gold Crew) wrapped up their North Coast and Haida Gwaii voyage in Port McNeill. They turned the vessel over to the Blue Crew on September 9.
During their six weeks aboard, the Gold Crew had fantastic visits. They visited so many people and places, Debbie Maxie said it felt more like three months aboard!
Most of their crossings of major bodies of water, like Hecate Strait, were blessed with unusually calm water. Always a nice treat for the crew.
They were able to provide assistance to a vessel needing a tow near Ivory Island light.
Teresa McArthur had the adventure of flying to Dawson's Landing in a Goose to rendevous with the crew there.
Alaska Voyage 2016
A success voyage from start to finish. The Blue Crew - Roy Getman, Joan (Petunia) McKee, Sarah C Buschhaus, and newest recruit Janelle Duckworth - went aboard June 3 in Port Hardy. They made crew change in Prince Rupert near the end of July.
Janelle Duckworth "learned the ropes" quickly. This included getting her first pair of XtraTuff boots - also known as Alaskan sneakers. Sarah-C spent more time gaining experience running the Coastal Messenger and the skiff. Roy and Petunia are excellent at passing on their knowledge of the coast.
Open Boat
Every year after our annual maintenance period we hold a few open boats. This year's open boats were held in Nanaimo, Genoa Bay, and Victoria. If you missed them, don't worry, we will schedule more for next April after our 2017 maintenance. But really, the Coastal Messenger is an open boat year round. Wherever you see us on the coast, say hello. The coffee is always on. And the crew is almost always ready to give a tour.
At the home base - Bible study in November
February - Complete
May - Complete
August - Complete
November 14-18 - sign-up open now
The mission base is a beautiful setting on the shore north of Chemainus overlooking the Gulf Islands. The base hums with the activity that keeps the mission going. Yet many describe it as peaceful. We invite you to set aside a week and come study the Bible here.
Frank Getman is a well-qualified and gifted Bible teacher. With a lifetime of experience and learning he's a great one for answering questions too! There will be morning and afternoon Bible sessions, interspersed with the fun of sharing meals around the mission table, music in the living room, and many other enjoyments of the place and people. There is room to tent, trailer, anchor, and there may even be a free bedroom inside. If you are interested, contact the office for more details or to save your spot.
The August Bible study was a delightful time with friends in two campers, one tent trailer, one boat anchored out front and two house guests. Warm weather drove the Bible classes outside where the shade of the trees and the sea breeze kept temperatures pleasant.
The Wedding - Still Big News
For the 350 who helped Frank and Petunia Getman celebrate on April 2, the wedding is old news. But for our friends on the coast who have yet to see the photo album and hear the stories, it's still big news. Petunia is looking forward to sharing it with you.
Spring Maintenance
During maintenance this year, weeks of rainy weather made it possible for Tom and Debbe to refresh some interior paint. Brian and Stephen improved the hydraulic steering system. The last jobs were giving the boat a thorough clean and putting fresh provisions aboard.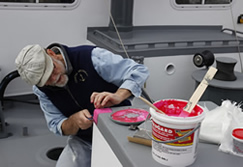 Keep up-to-date with all that's happening at Coastal Missions
Keep in touch with the news! We write a newsletter a few times a year. If you would like to receive our news by email subscribe here.