Coastal Missions Society
Advancing the Gospel on the Coast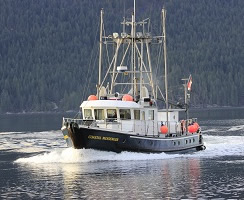 Coastal Missions is a Limited Corporate Society and a Registered Charity in Canada and United States since 1980
Coastal Missions is constituted exclusively for the advancement of the Gospel on the coast
Our 52-foot mission vessel Coastal Messenger operates year-round on the coasts of British Columbia, Washington, and Alaska
Our mission base and office are situated in Chemainus, BC
All our activity is charitable and non-commercial
Our funding comes from donations without appeal
2017 Voyages
2017 voyages have begun! The Gold Crew is currently aboard. They will continue visiting in the Gulf and San Juan Islands and Puget Sound until mid-February.
Annual maintenance will take place in Nanaimo in March/April.
The Coastal Messenger will depart again in April on the 3200 nautical mile circuit that will bring her back to home port in December.
The crews will visit people living on the west coast of Vancouver Island, SE Alaska, Haida Gwaii, mainland BC inlets, and the archapelago of islands between Vancouver Island and the mainland, and east Vancouver Island.
Follow the 2017 Coastal Messenger schedule through the year either online with links to Google Maps or in print (PDF file).
The Meeting of the Messengers
The 2017 vessel year started with a very special meeting. Bill Noon, the captain of the Messenger III, a retired mission boat, brought the beautiful wooden heritage vessel to Ladysmith. The Coastal Messenger was departing home port that day. It was a picture perfect opportunity.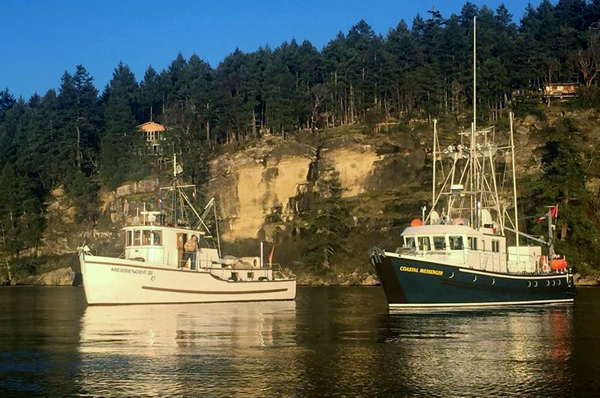 There is a photo of the Messenger III when it was still in service as a mission boat in the first Our Story page.
Missions Fest
Coastal Missions will be at Missions Fest Vancouver again this year, at the Vancouver Convention Centre, January 27-29. Visit us at Booth C07.
We will also be at Trinity Western University for their missions week in the days prior to Missions Fest Vancouver.
Open Boat
Every year after our annual maintenance period we hold a few open boats. This year's open boats will be held in Ladysmith (April 14), Genoa Bay (April 18) and Victoria (April 20). But really, the Coastal Messenger is an open boat year round. Wherever you see us on the coast, say hello. The coffee is always on. And the crew is almost always ready to give a tour.
This pan shot shows the interior of the Coastal Messenger from the aft steps entry (left) to the mirror at the galley table (right).
Spring Maintenance
Routine maintenance will take place during March and the first part of April. The Coastal Messenger will be "on the hard" for a good month to make painting and other projects possible.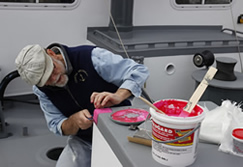 Port Neville
Coastal Missions will be wrapping up our lease of Port Neville March 31. Chet and Teresa McArthur have held the fort there for five years. It is hard to believe five years went so fast. They value and will certainly continue the friendships started on the float and often continued over cups of coffee in the old Hansen homestead. Moving on the coast looks a lot different than moving in town... the Coastal Missions van got a ride on the Hardwicke Transporter for moving a big load of gear.
Keep up-to-date with all that's happening at Coastal Missions
Keep in touch with the news! We write a newsletter a few times a year. If you would like to receive our news by email subscribe here.