Coastal Missions Society
Frequently Asked Questions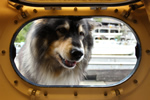 Click on any question below to view the answer. Re-click to close the answer.
Woof, Woof! - Where are the dog biscuits?
We keep dog biscuits for our four-footed friends in the galley. When Debbie is aboard, she always has nutritious homemade treats available.
Dogs and cats alike know that they are welcome to bring their people aboard for visits and are often found visiting the crew through the conveniently located port holes.
How does Coastal Missions get its money?
Coastal Missions grew out of Bible studies and training programs at Pachena Bay on the west coast of Vancouver Island. By the end of the 1970's there was a definite team.  When people heard this team intended to incorporate as a missionary society, people began to send money to support it.
Coastal Missions became a Limited Corporate Society and Registered Charity in Canada and the United States in 1980. Individuals, groups, businesses, and churches have continued to give financially down through the years simply because people know about the work and want to support it. No appeal is ever made for money by Coastal Missions.
Where does the boat go?
North into the B.C Mid -coast, South into Washington, inside and outside Vancouver Island, and to the British Columbia mainland coast as far as Klemtu. See the Vessel Schedule for details.
Does Coastal Missions go mostly to villages?
Visits are made to anyone who is living in remote areas of the coast, regardless of race or religion. While Coastal Messenger does stop at first nations villages, there are also many visits to light stations, logging operations, work sites, fishing camps, homes, vessels, and any where else we are needed.
How many crew are there on the boat?
The vessel is designed to comfortably accommodate four crew members. A crew is usually three to five people.
What do you do when you're not on the boat?
The Mission does all the things necessary to stay in operation like any organization. Because workers spend much time away on the mission vessel and on other outreach endeavors, there are often few hands to attend to the needs of the base, shop, and office.  Hands are applied to gardening, canning, freezing, and food preparations, building maintenance and renovation projects. Workers largely maintain vehicles and other mission equipment.  Hundreds of cards and letters are written throughout the year.
What do you do in the winter?
Coastal Missions continues year around except for a break through the Christmas holidays. Traditionally, the vessel was out all or part of every month except March during its yearly maintenance. Winter is a full and busy time for Coastal Missions.
How do you take a bath on the boat?
This is most often asked by ones coming inside the mission vessel Coastal Messenger the first time. It is likely sparked by the realization that the vessel, although normal in many ways like a home or apartment, is not hooked up to city water and drains.
There are two separate accommodation areas on the vessel. Each has complete facilities with toilet, mirror, wash basin, hot and cold water and shower wand for washing up. Water from sinks and showers drain into waste tanks that are pumped out at appropriate times. Baths are like washing your face, just all over.
Do you ever get into rough water?
Yes. Wind and waves are part of nature. Getting into rough water is unavoidable for a vessel that is out year around. Coastal Messenger rides well. Life goes on normally most of the time.
Coastal Messenger crew take weather and weather warnings into account when making decisions.
Do you do a lot of fishing?
No. Sometimes crew may go fishing especially if ones being visited want to take you. Coastal Messenger could be mistaken for a fish boat to the untrained eye. Yet she was designed and built only for missionary work. The mast is for floodlights and antennas. The poles you see on both sides are for paravane stabilizers.
Stabilizers like this are commonly used on west coast fishing vessels. In the case of the Coastal Messenger, there is no fishing apparatus. Orange buoys lashed at the rail are fenders for tying to other boats or to floats.
Do you ever take anyone on the boat?
Coastal Messenger operates under the Constitution of the Coastal Missions Society. She is crewed by missionaries engaged in scheduled Christian ministry. She does not carry passengers or guests except for training purposes.
Do you mostly hold meetings?
Coastal Missions simply visits people - the same as friends visit friends. Coastal Missions' motto is People Reaching People. Coastal Missions visits people in a lot of settings. People often gather for a meal and for music in a home or aboard Coastal Messenger. Scriptural instruction is sometimes given in a group setting but more often in an individual and personalized way. Bibles are freely given.
Can you come speak to our group?
Coastal Missions frequently speaks to a wide range of groups, from yacht clubs and Power Squadrons, to seniors' luncheons, to Sunday Schools, youth groups, and churches.
Contact us if you are interested in having a crew visit your group. We enjoy tailoring each presentation to make it a unique and interesting experience.
What about the Bibles you give away?
Copies of The Compass New Life Bible with a photo of Coastal Messenger on the cover are commonly given by Coastal Missions to people living and working up and down the coast. There is no promotion of Coastal Missions in the Bible.  Easy wording and straight-forward studies at the end make it useful in many settings.
Those interested in purchasing New Life Version Bibles with a generic cover can do so directly from Barbour Publishing:
www.barbourbooks.com
orders@barbourbooks.com
1-740-922-1352
PO Box 719
1810 Barbour Drive
Uhrichsville, OH 44683
USA